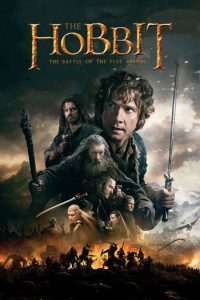 The Hobbit: The Battle of the Five Armies
- -
---
Immediately after the events of The Desolation of Smaug, Bilbo and the dwarves try to defend Erebor's mountain of treasure from others who claim it: the men of the ruined Laketown and the elves of Mirkwood. Meanwhile an army of Orcs led by Azog the Defiler is marching on Erebor, fueled by the rise of the dark lord Sauron. Dwarves, elves and men must unite, and the hope for Middle-Earth falls into Bilbo's hands.
Photos
Storyline
---
---
Details
Box Office
Company Credits
Technical Specs
By Ginger Shelby
Hobbit fans, it is now time to return to the land of Bilbo Baggins and Middle Earth. What is going on in Middle Earth this time, you ask? This time the Smaug are after the kingdom treasure and will destroy all of Middle Earth in the process. It is up to Bilbo and company to stop him and save Middle Earth from a horrible fate. This family movie review thinks that you will like The Hobbit: The Battle of Five Armies, but only you can decide if it is right for the kids.
This movie is frightening, intense, and dark, as one would expect from Middle Earth. However, it can be said that the director makes all the difference. The battle scenes are intense, but this one had surprisingly less foul language than the Lord of the Rings Trilogy. There are lots of insults being hurled at Orcs, but they are more like innocent schoolyard insults. There was one instance of the word "bastard" but other than that, it was a milder mannered version, in term of language. Of course, Gandolf is seen smoking his pipe in a few scenes. However, for such as dark and violent movie, this one was more kid friendly than its predecessors.
Everything is bigger in this movie, bigger armies, bigger monsters, and bigger effects. The Orcs are stronger and more fearsome. There are war bats that were created for only one purpose. The emotional drama is more intense the earlier trilogy. This is the final battle for the Kingdom. Of course Middle Earth fans will not be able to get enough of this one. It is rumored that there are Hobbit marathons in many cities. Is this one appropriate for all members of the families? That depends on the violence factor and the amount of previous exposure the kids have had. If you are Middle Earth fan, they have probably already met the Orcs in the past. This kid's movie review thinks that this movie will go down in Middle Earth history, if not only for its epic battle scenes and effects.