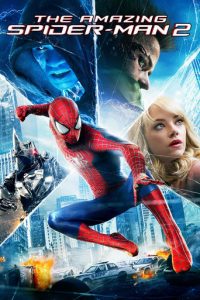 The Amazing Spider-Man 2
- -
---
For Peter Parker, life is busy. Between taking out the bad guys as Spider-Man and spending time with the person he loves, Gwen Stacy, high school graduation cannot come quickly enough. Peter has not forgotten about the promise he made to Gwen's father to protect her by staying away, but that is a promise he cannot keep. Things will change for Peter when a new villain, Electro, emerges, an old friend, Harry Osborn, returns, and Peter uncovers new clues about his past.
Photos
Storyline
---
---
Details
Box Office
Company Credits
Technical Specs
Come along as Peter Parker, otherwise known as the famous Spiderman, weaves another web of adventure and thrills. Spidey always has something up his sleeve, other than webs. In this action thriller, Spiderman not only has the usual stresses of leading a double life. He must face a foe much stronger than himself, Electro. This parental guide to the movies thinks that this is a complicated plot. Here is how it all begins.
Spiderman is busy leading a double life, innocent Peter Parker by day and keeping the streets safe at night from evil villains. In this movie Peter receives a video from his father, scientist Richard Parker, telling Peter that his and his wife have been hijacked in an assassination attempt. The plane crashes and they are killed. Meanwhile, Spiderman apprehends Aleksei Sytsevich who was attempting to steal some plutonium vials. During the chase, Spidey rescues Max Dillon, an OsCorp employee.
A friend from Peter's childhood, Harry Osborn, returns to Manhattan to see his terminally ill father. Harry is the son of the OsCorp CEO. Harry's father informs his that his illness is hereditary and that Harry is at the age where the first symptoms begin to appear. Norman gives Harry a device with his life's work on it. Norman dies and Harry becomes the new CEO of OsCorp. Max, the OsCorp employee that Spidey rescued earlier, and Spidey have become friends. While doing some maintenance, Max falls into a tank of electric eels. Max turns into a living electric generator. The plot gets even more complicated from this point forward. This family movie guide is not going to tell you what happens next, but let's just say there is a twist the Spiderman fans never saw coming.
In terms of whether it is a good movie for the kids, let's just say that violence plays a key role in this movie. It is a Marvel world and they are never known for being docile and peaceful. Peter and Gwen do kiss a few times. Gwen wears a short skirt in one scene and Harry Osborn's secretary shows cleavage. There are lots of gunshots. When Max falls into the tank of eels, his body is charred black. As he stirs, his black flesh falls away to reveal the blue body of electro. Lots of people get zapped by Electro in the movie. There are several expletives used in the movie a few times. Harry does get drunk in the movie. There are many intense scenes and breathtaking suspense that might be too much for children under the age of ten. Every parent must be their own guide, but this family movie guide thinks this one is too intense, even for many adults, but for diehard Marvel fans it is sure to delight.