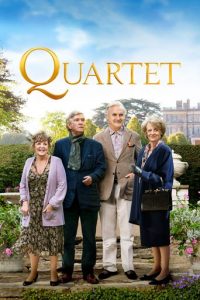 Quartet
- -
---
The directorial debut of Dustin Hoffman, Quartet is a high-drama comedy about temperamental divas and old grudges, passion and pride, romance and Rigoletto. At a home for retired musicians, the annual concert to celebrate Verdi's birthday is disrupted by the arrival of Jean, an eternal diva and former wife of one of the residents. Expect poignancy and plenty of laughs.
Photos
Storyline
---
---
---
Details
Box Office
Company Credits
Technical Specs
by Ginger
Quartet is one of those movies that, although it is probably family friendly enough to be considered a PG-13, the subject matter may not interest those of that age. The plot of Quartet focuses on a bunch of senior citizens who find themselves in a special retirement home for former performers. They are a delightful bunch of characters, but many of the circumstances and situations to which they refer will be difficult for younger crowds to relate to. This family friendly movie review feels that this delightful comedy may be quality entertainment, but the Quartet is not likely to bridge the generation gap.
This retirement home for former opera singers is about to put on their yearly extravaganza in celebration of Verdi's birthday. All is going well for this yearly extravaganza until Jean, a diva even at her age, and former wife of one of the residents arrives on the scene. From here, the Quartet plot focus is on her adjustment to this unique community of retired citizens and a love triangle that goes back to their younger days.
Maggie Smith brings the character of Jean alive, only I personally found it very difficult to get her role in the Harry Potter series out of my head. I kept seeing her floating around the mansion at Hogwarts. It may be that she portrayed the character in Quartet using a similar aire to her acting in Harry Potter.
When Jean arrives at a retirement home, she disrupts the entire established routine by her diva-like behavior. She refuses to sing and the characters must continue their preparations for the show without her. There are some instances of suggestive humor and strong language in the Quartet movie. However, as a PG-13, the Quartet movie is right in line with the rating. In this retirement home, old is not the same thing as dead and these retirees show that romance still continues even into the silver years. There is plenty of romance to be had in this movie and some flirting. It may destroy stereotypes held by children and teens about their grandparents what it means to get old. They may find that some things never change even as we grow older.
One thing to keep in mind is that MPAA ratings are only concerned with any content that may be considered inappropriate for certain audiences. It does not have anything to say about whether the Quartet movie will be likely to interest that age group or not. The intended audience for this movie was retirees who can relate to the characters. That is the same with any movie. The characters chosen define the audience that the film was trying to reach. Dustin Hoffman directed this movie, and he made it more appropriate for those his own age. This Parental Guide to the movies feels that Quartet is a family friendly movie, but not necessarily one that is interesting for the members of the family who are teenagers and younger. This one is more than likely to be a date night for the kids' grandparents rather than one to go see with the grandchildren.