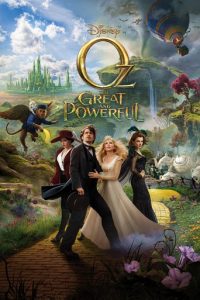 Oz: The Great and Powerful
- -
---
Oscar Diggs, a small-time circus illusionist and con-artist, is whisked from Kansas to the Land of Oz where the inhabitants assume he's the great wizard of prophecy, there to save Oz from the clutches of evil.
Photos
Storyline
---
---
Details
Box Office
Company Credits
Technical Specs
Product
Specification
Photos
Disney's fantastical adventure Oz The Great And Powerful, from the director of the Spider-Man trilogy, follows Oscar Diggs (James Franco), a small-time circus magician with dubious ethics. When Diggs ...
by Ginger

Oz the great and powerful will once again have theater goers saying, äóìI donäó»t think weäó»re in Kansas anymore.äó It is time once again to travel to the merry Land of Oz period. Only this time we get to find out how the great and powerful Oz came to be. This story does not have Dorothy or Toto. It does not have Aunt Em, and many of the other characters from the original, but donäó»t let this stop you from thinking this movie can hold its own. This family guide to the movies canäó»t wait to tell you whatäó»s in store on this magical trip to the famous magical land.

The story begins in black and white. This version features a circus magician, and not a very good one in that. One day he decides to board his hot air balloon, then suddenly a tornado appears. Sound familiar? The tornado carries him away and he lands in a strange land full of strange creatures and one where magic abounds. It seems that they have been waiting for a man from Kansas to appear and help them destroy the wicked witch before she can destroy the Land of Oz forever.

Oz was not quite as lucky as Dorothy. A house did not fall on the witch this time. Oz will have to do it the hard way. In the first movie it was easy to spot the good witch and the wicked witch. Not so in this twisted tale. His first task is to decide which witch is which. They are all cunning, beautiful, and charming. His prize, should he complete the mission, is wealth beyond imagination and ultimate power in the Land of Oz.

The MPAA has not rated this one yet. However, it is expected that it will probably rate a PG-13. Children younger than PG-13 age will be more than likely enjoy this movie. Oz the Great and Powerful is a little more dark then the first version. There are many frightening scenes that may make the movie too scary for younger members of the family. An evil dismembered hand creeps across the screen. There is a battle scene with lots of explosions and fire. The flying monkeys are back and they are even scarier than in the first movie. If you had nightmares of the scary monkeys after the first movie, your kids will probably have nightmares about the scary monkeys this time. Lies, treachery, and danger abound throughout the movie. It is a wonderfully woven plot and the computer graphics used are superb. This magical land is enchanting and will be sure to delight all audiences, except for perhaps those who may consider it to be too scary.