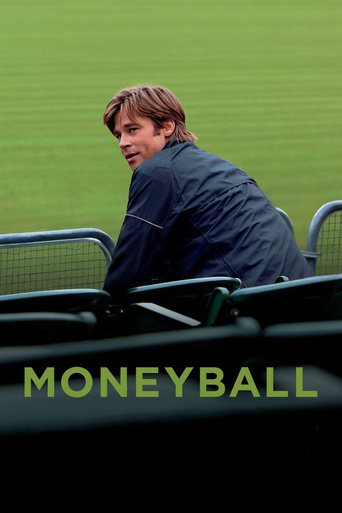 Moneyball
- -
---
The story of Oakland Athletics general manager Billy Beane's successful attempt to put together a baseball team on a budget, by employing computer-generated analysis to draft his players.
Photos
Storyline
---
---
Details
Box Office
Company Credits
Technical Specs
by Ginger

Moneyball takes you into the high stakes world of big league baseball. In this movie Oakland Aäó»s manager, Billy Beane puts together a team based on computer generated analysis to pick and draft his players. Will it work? This parental guide to the movies is not going to tell you. You will just have to see for yourself. Remember, no spoilers, unless it has to do with parental content advisories.

Moneyball is an interesting movie based on a true story. It has some educational value in that it takes you into a side of baseball that they rarely get to see. It is a behind the scenes look at the real competition in the game, which goes on and off the field, rather than on.

Ok, so what about parental controls and content? A lot of scenes take place in the boardroom. This movie did an excellent job of maintaining the heroic image of baseball that your kids know and love. They will still have respect for the game and the players, because the movie did not portray them acting realistically. It is a good movie for kids and they will learn something that they did not know. This was a wholesome movie about an all-American sport. It is not necessarily a must see, like Anonymous, but it is a good movie, particularly if your little one likes to swing for the bleachers themselves. It will inspire you to pick up some discounted baseball equipment and hit the diamond.

If you are an Oakland Aäó»s fan, you have to see it. It shows baseball icons as real people, eating cereal in the morning, discussing their hopes and fears, and other activities that you do not think about when they are on the mound. In this way the movie makes the hope and dreams of the player a little more real, but not in a way that destroys them as icons. This movie will inspire you. This was a well-made movie and they knew their target audience well. This family movie review felt that it was a well-made movie that would be an enjoyable afternoon for parents and children to see a movie that both of them will love. Then get out and play a game of catch before the summer fades into fall.