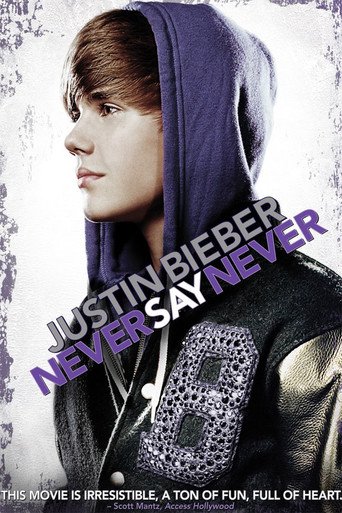 Justin Bieber: Never Say Never
- -
---
Tells the story of Justin Bieber, the kid from Canada with the hair, the smile and the voice: It chronicles his unprecedented rise to fame, all the way from busking in the streets of Stratford, Canada to putting videos on YouTube to selling out Madison Square Garden in New York as the headline act during the My World Tour from 2010. It features Usher, Scooter Braun, Ludacris, Sean Kingston, Antonio "L.A." Reid, Boyz II Men, Miley Cyrus, Jaden Smith, Justin's family members and parts of his crew and huge fanbase in a mix of interviews and guest performances. It was released in 3D in theaters all around the world and is the highest grossing concert movie of all time, beating the previous record held by Michael Jackson's This Is It from 2009.
Photos
Storyline
---
---
Details
Box Office
Company Credits
Technical Specs
by Ginger

This documentary profiles the early life and his rise to fame. It features the music and stage performances of Justin Bieber. This movie focuses on his musical talent and his ability to have vision at an early age. The focus of this movie is on what goes on behind the scenes of Justin Bieberäó»s concert tour.

The movie is a story of hope, dreams and vision. It has many interviews with families and friends from Justinäó»s early life. It is a documentary style that focuses on how Justin dreamed big, went for his goals and then leveraged his way to the top. Unlike many documentaries that focus on a famous artist, the focus of this documentary is not on tragedy surrounding his life.

This is a fan video about an ordinary kid. It could be considered to be a big advertisement for his music and concerts. The movie tries to portray Justin as an ordinary boy who had big dreams and made them happen. There are lots of home movies about his early life. It is questionable whether very young children under the age of 8 would find the plot interesting. According to this family movie review, it is a story of inspiration and appropriate for most ages, particularly Justin Bieber fans.