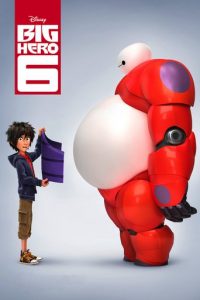 Big Hero 6
- -
---
The special bond that develops between plus-sized inflatable robot Baymax, and prodigy Hiro Hamada, who team up with a group of friends to form a band of high-tech heroes.
Photos
Storyline
---
---
---
Details
Box Office
Company Credits
Technical Specs
Product
Specification
Photos
With all the heart and humor audiences expect from Walt Disney Animation Studios, BIG HERO 6 is an action-packed comedy adventure that introduces Baymax, a lovable, personal companion robot, who ...

by Ginger Shelby

In a unique take on the ordinary citizen who turns into a superhero, Big Hero 6 ads a different twist to an old plot. When trouble strikes, Hiro Hamada becomes Baymax. Who is Baymax, you might ask? He is a giant supersized inflatable robot. Parental Guide to the movies bets that you never saw that one coming. In his life as a supersized inflatable robot, Baymax, he must bring together a bunch of tech saavy kids to fight an evil villain. Let's take a closer look at Baymax and friends.

When an unfortunate event befalls San Fransokyo, Hiro Hamada transforms into Baymax to save the day. He is accompanied by Go Go Tamago, an adrenaline junkie with a need for thrills and excitement. He is also accompanied by a spicy little fellow, neatnik Wasabi, whiz honey lemon, and fanboy Fred. Together they strike out to save the day.

This flock of inflatable fun has a few elements that may be questionable to some parents. There is a brief mention of puberty. There is some name calling, jerk, stupid, brat and other colorful examples. Other than that, there is the some action and scenes involving danger that may be too much for the younger members of the audience.

This family is about friendship, family, and sticking together through thick and thin. Baymax is benevolent and kind. He is much like a big, fluffy marshmallow with a huge heart. Baymax has a tough time transforming into a tough superhero. He is just too lovable. This is a heartwarming story about a big guy with a big heart. There is little reason for concern from a parental standpoint on this one. This family movie review considers this one to be a fluffy fun filled frolic for any Saturday afternoon with the family. Don't be surprised if your kids suddenly have a craving for marshmallows. Big Hero 6 is a supersized trip that will be sure to please.