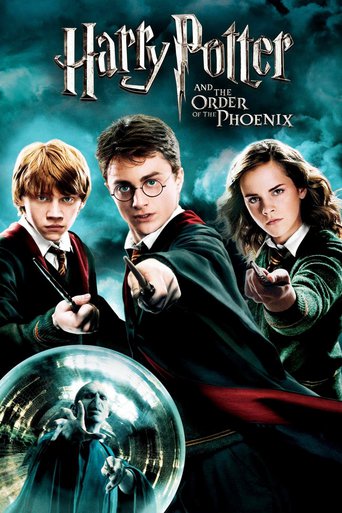 Harry Potter and the Order of the Phoenix
- -
---
Returning for his fifth year of study at Hogwarts, Harry is stunned to find that his warnings about the return of Lord Voldemort have been ignored. Left with no choice, Harry takes matters into his own hands, training a small group of students – dubbed 'Dumbledore's Army' – to defend themselves against the dark arts.
Photos
Storyline
---
---
Details
Box Office
Company Credits
Technical Specs
Harry Potter and the Order of the Phoenix is classified as an Adventure/Fantasy

movie. It came to theater on July 11 of 2007 and was released

on DVD the 11th of December that same year. The film earned a

PG-13 rating for sequences of fantasy violence and frightening

images.

This PG-13 rating of Harry Potter and the Order of the Phoenix

is shared by the movie preceding it (Harry Potter and the Goblet

of Fire.) The first three films of the series were only rated

PG. For both of these movies, the PG-13 was earned during the

last twenty minutes. Still, there are a few scenes prior to that

which some parents may consider too intense for very young children.

You may wish to skip over these scenes while watching on DVD.

There are a few instances of blood and death in Harry

Potter and the Order of the Phoenix. In a few ways, it is the darkest

of the films yet. However, it is considered a family movie and certainly

falls under the tamer spectrum of the PG-13 rating. The Two-Disc Special

Edition DVD also includes the opportunity for viewers to edit camera

angles, music, and sound effects of a scene. Families may really enjoy

this additional feature as it introduces children to the magic behind

filmmaking.