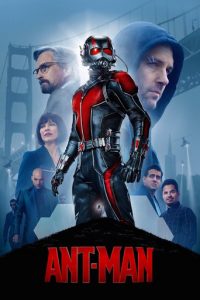 Ant-Man
- -
---
Armed with the astonishing ability to shrink in scale but increase in strength, master thief Scott Lang must embrace his inner-hero and help his mentor, Doctor Hank Pym, protect the secret behind his spectacular Ant-Man suit from a new generation of towering threats. Against seemingly insurmountable obstacles, Pym and Lang must plan and pull off a heist that will save the world.
Photos
Storyline
---
---
---
Details
Box Office
Company Credits
Technical Specs
Product
Specification
Photos
The next evolution of the Marvel Cinematic Universe harnesses the tiniest but mightiest force know to man and introduces the newest member of the Avengers: MARVEL'S ANT-MAN. Armed with the amazing ...
| | |
| --- | --- |
| Actor | Paul Rudd, Michael Douglas, Evangeline Lilly, Corey Stoll, Bobby Cannavale |
| AspectRatio | |
| AudienceRating | |
| Binding | |
| Creator | Screenplay by Edgar Wright & Joe Cornish & Adam Mc, Writer, Story by Edgar Wright & Joe Cornish, Writer |
| Director | |
| EAN | |
| EANList | |
| Format | Multiple Formats, AC-3, Color, Dolby, Dubbed, NTSC, Subtitled, Widescreen |
| IsEligibleForTradeIn | |
| ItemDimensions | 50, hundredths-inches, 750, hundredths-inches, 15, hundredths-pounds, 550, hundredths-inches |
| Label | |
| Languages | |
| Manufacturer | |
| Model | |
| MPN | |
| NumberOfDiscs | |
| NumberOfItems | |
| PackageQuantity | |
| PartNumber | |
| ProductGroup | |
| PublicationDate | |
| Publisher | |
| RegionCode | |
| ReleaseDate | |
| RunningTime | |
| Studio | |
| TradeInValue | |
| UPC | |
| UPCList | |
by Ginger Shelby

Marvel hits the big screen with an innovative hero. Scott Lang is a con-man who must embrace the hero within to help his mentor. Dr. Han Pym has invented a suit that gives the wearer unique powers. In this particular suit, the wear has the ability to shrink in scale, but increase in strength when he does so. This movie has everything that you want from a Marvel film. This family movie review thinks that this one was is mild, compared to other Marvel movies in the past several years.

Ant-Man is a refreshing new twist on Marveläó»s world. Scott must conduct a difficult heist to protect the secret of the suit. There is a scene where Scott breaks into a safe by freezing the metal with liquid nitrogen. The plot and characters of the movie are intense. Marvel might have just created its next superhero for the ages. The movie is lighthearted and comedic for a Marvel film. This one breaks the dark fantasy mold that Marvel has been dishing out for the past several years.

The MPAA rating for this movie is just what you would expect for a Marvel action flick. There are fight scenes, people getting thrown through windows, and the usual violence one would expect from a Marvel. There is some drinking in a bar, smoking, and jokes about getting high. There are a few cases of profanity.

The focus of the movie is on a fatheräó»s love for his daughter and the lengths that he is willing to go to in order to protect her. So far, critics seem to be too hard on this movie. Those who have seen it seem to love the fresh new twist on what is destined to become a Marvel classic. This kidäó»s movie review thinks that you will just have to go see for yourself. You be the jury and let us know what you think.